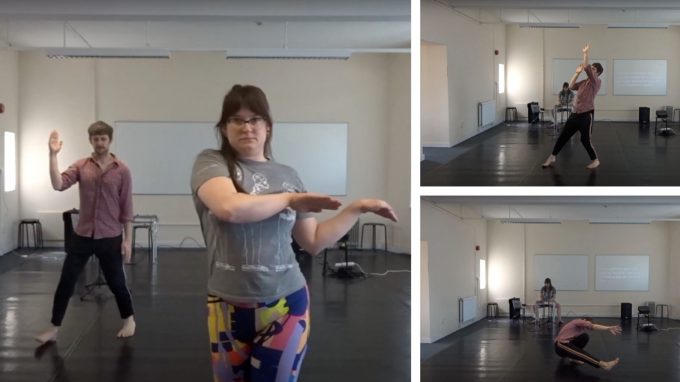 The week was really interesting. I was accompanied by my frequent collaborator Eleanor Sikorski who is also my partner. We explored various ways of framing movement with text. Reading text about the planet or about geology or about interplanetary movements just before engaging in a movement exploration. Noting how the words provide a context for the ensuing movements, for the ways that our bodies would interact with one another, for the ways they would drift apart, intersect and collide. It felt like something cool was happening – good old Hull.
We used the book Are We Here Yet? by Brussels based American choreographer Meg Stuart to engage in a variety of movement explorations. 
Particularly we enjoyed using a score wherein one person lies on the floor completely passive and the other person uses their body to enact different situations that they want to. They can
whisper in the ear of the passive person

lie alongside them

pick them up

roll them over

shake them

sit on them

lift them as far up as they can
or perhaps dance around them, not exactly interacting with them but making a complex and intriguing image where one dances and the other is perhaps perceived as dead.
We enjoyed working this way – throwing relationships between two bodies into the air, embracing numerous multifaceted interpretations of what or who we were to each other. 
Early in the week we hosted a workshop of movement and writing with a group who regularly attend dance classes at Hull Dance and they were so brilliant, we had a great time. Most of them came back on the Friday to watch a 20-minute cluster of materials that we had put together followed by a brief feedback session.
The whole thing was so helpful and I feel like I'm going to be in such a good place to start creating with a full team when the project funding eventually comes through. Like so many companies at the moment we are waiting to hear back from our latest (revised) funding application, perseverance has always paid off for us in the past and we're going to stick at it until we're able to bring this project to life. 
I hope to see you all in Hull in early 2024