Let's Talk … is a great chance for you find out about, and chat with, some amazing dance artists based in Hull and further afield who have worked with Hull Dance during the last 12 months. It also gives us a chance to introduce new artists who we would like to work with in the future.
This is a fantastic opportunity to catch up with what the artists have been doing and find out about their next projects. The sessions will use Zoom so you can ask questions and share your thoughts as the sessions take place. If you would rather just listen that is fine too.
You are welcome to attend all events, or join us for some, whatever works for you.
You can now sign up for any of these Artist Talks, no need to specify which you wish to attend.
Upon completing the booking you will be placed on the access notification list.
On the day of each webinar you will receive an email with a specific link to view the content. If you are busy, or changed your mind, no problem,  just don't use the link.
Each session runs from 6.30pm – 7.15pm (approx end time). 
We look forward to seeing you there.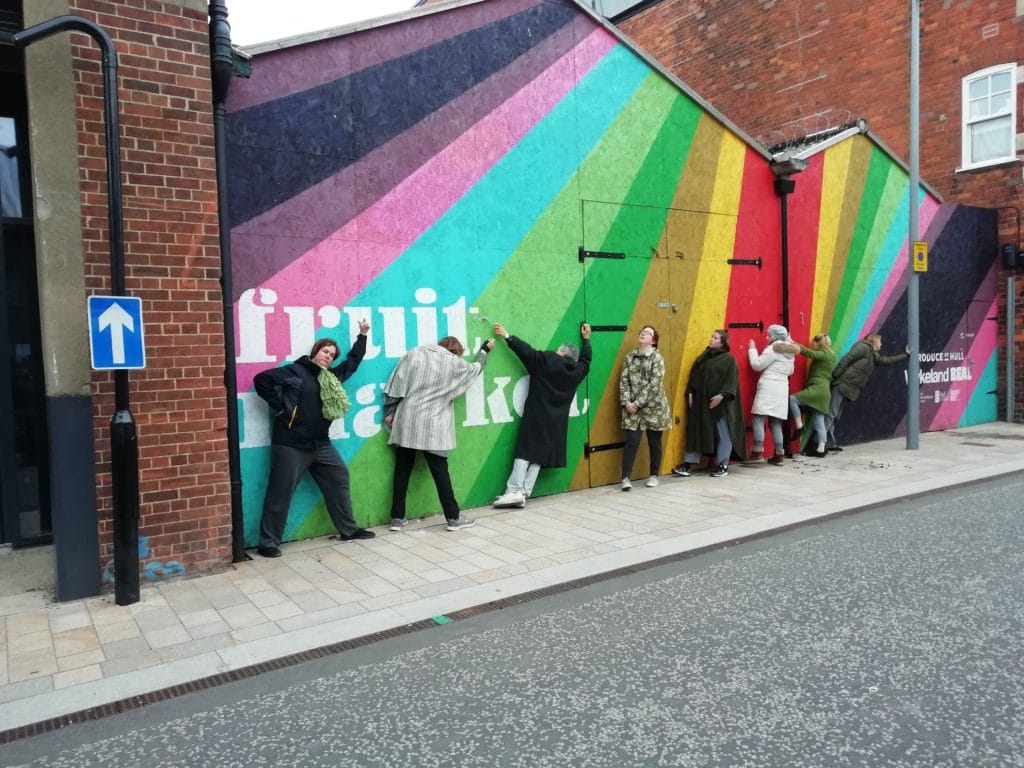 Guest Artists: Živilė Virkutytė
Date: Wednesday 15 July 2020

Ways of framing movement performance as transformational experience

Živilė Virkutytė  Živilė studied Theatre Practice at the University of Hull. Her various collaborations and performance experiences have been based in Berlin, Paris, Israel, Italy, UK, (London, Leeds, Hull, Brighton) and Lithuania.
She is drawn to a multidisciplinary approach of making theatre. For the last 5 years, her main focus was on how movement and performance art can work together not only with other art forms, but find close connections with such disciplines as science, digital technology and philosophy. Her recent research has moved even further afield and found close connections between ancient yoga philosophies, neuroscience, trauma psychology and performance art. 
Živilė's session will focus on the approaches that she has found to be useful when creating performance, so that it leaves the audience space to reflect, mirror and explore their own emotions, senses and experiences rather than just consuming staged concepts.
It will also explore the equally important area of finding ways to talk about viewing art, especially something that is less defined, less explained and more instinctual. Through a short, emptying exercise we will get glimpses of how it is to be truly a part of a shared experience. Does learning to articulate sensual experiences of the artworks lead towards a more empathetic understanding of ourselves, and the world?
Guest Artists: Yael Flexer and Nic Sandiland
Date: Wednesday 1 July 2020
Flexer & Sandiland - Creating Dance & Digital
Yael and Nic's work centres on generating a sense of intimacy and informality in live performance and digital installation, in a way which acknowledges the physicality and presence of the viewer. They work independently as well as together as Flexer &Sandiland.

Yael Flexer – originally formed the company as Choreographer in Residence at The Place Theatre, London. To date she has created 13 full-length productions for the company, touring throughout the UK & internationally.  Flexer & Sandiland has been commissioned to create live and/or digital works for among others: Brighton Dance Festival & Digital Festival, Sadler's Wells, Woking Dance Festival, The South Bank Centre, Barbican Centre, London & Cinedans (Amsterdam, The Netherlands). The company has recently completed a winter 2020 touring season of Curiouser a co-production for family audiences created with Norwegian company dybwikdans. Flexer & Sandiland's digital work The Hum commissioned by Brighton Festival & touring as part of Without Walls Festival Network premiered in May 2017 and will complete its UK tour in summer 2021.

Yael regularly leads choreographic labs, workshops, professional training and mentoring internationally. She completed her PhD in 2013 and co-directs mapdance, the University of Chichester's postgraduate repertoire touring company.

Nic Sandiland – is a UK based artist whose work explores new choreographic forms through installation, performance and film. He originally trained as an electronics engineer before studying dance and performance in the late 80s. Over the past 20 years he has made movement-based works focusing on simple pedestrian choreography. He is particularly interested in engaging the everyday movements of the viewer in a choreographic context and since 2000 has increasingly employed interactive digital technology to do this.

Recent work has drawn on cinematic techniques, such as slow motion and moving camera mechanisms as ways to elevate the mundane and often overlooked choreography of everyday life. He has made work in London, Europe and South East Asia and has presented at theatres, art galleries, and many unusual venues. His film work has been shown worldwide and has been regularly broadcast on UK TV (Channel 4).

Nic has taught workshops on digital technology and dance around the World including: Bangalore, India and Seoul, South Korea. He also taught video production for 10 years at London Contemporary Dance School (MA dance for camera) and is a senior lecturer in fine art at Middlesex University.

You can checkout past works at www.flexerandsandiland.com

In this session Yael & Nic will show excerpts from some of their live & digital works made over the years, including Gravity Shift (2010), Disappearing Acts (2016) and their work in progress Acting Our Age (2020). They will discuss key themes and how they approach making and collaboration with their team of performers, writers & designers as well as each other.  The session will conclude with a Q&A open to questions from those attending the talk.
Creative Collaboration:
Dance and Visual Arts
Date: Wednesday 17 June 2020
Guest Artist: Jo Ashbridge
Jo Ashbridge is a Hull-based performer, choreographer, dance teacher and events
producer. She studied HND Physical Theatre at the University of Salford (2003) and BA
honours Dance at Liverpool John Moores (2006).
Since then she has had a varied career in dance both in Hull and the Northwest; working in
dance & health settings with MDI and Movema Dance Company (Liverpool) and working
extensively as a Community Dance Practitioner and Dance Maker/Performer in partnership
with Hull Dance, MDI, Yorkshire Dance, Absolutely Cultured and Hull City Arts Unit.
Her work began to take a more collaborative approach in 2014: winning Turn Prize (hAb
Arts, Dance Manchester & Contact Theatre) for solo dance & digital projection piece Going
places, producing Danza! Collaborations – a performance event involving 25 artists of
different artforms from Hull & Yorkshire, and later co-founding performance company Tamar
& Jo with fellow dance maker Tamar Draper, which focuses largely on collaboration with
costume design. With Tamar & Jo she has performed at Freedom Festival Hull, Yorkshire
dance's No Dress Code, SLAP Festival York, and hAb Arts' Emergency Manchester, and
received mentoring from Lea Anderson MBE and Wendy Houston (DV8, Forced
Entertainment).
Jo's session will look at collaboration between dance and visual artforms: film, digital
projection and costume. She will talk about and show examples of her work in this area,
including her prize-winning solo and digital projection piece Going Places, music video for
The Swimmer by Cinematic Orchestra's Phil France, and work by performance company
Tamar & Jo, who have recently collaborated with costume designer Sophie Donaldson
(Royal Opera House, Trinity Laban, The Place). She will also talk about her event Danza!
Collaborations and how it facilitated collaborations between dancers and artists of a wide
range of artforms, as well as opening up a discussion and Q&A around the subject.